Triple accredited business schools (AACSB, AMBA, EQUIS)
As of January 2017, 77 business schools in the world hold the "triple crown" accreditation from the most sought-after international accreditations: AACSB, AMBA, EQUIS. 68,2% of them are from Europe.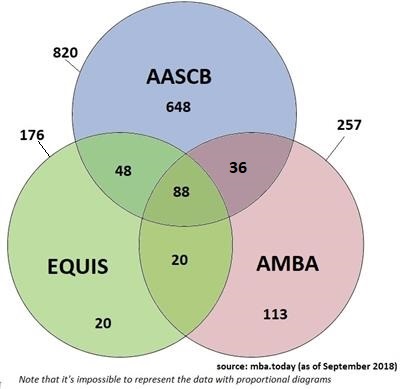 68.5 percent of AACSB-accredited Business Schools are from U.S. but none of them holds the triple accreditation. One of the reason is that most institutions in U.S. accept students with a bachelor degree with no or little work experience. The Association of MBAs considers the MBA degree as a postgraduate degree and one of its requirement is that students must have at least three years of work experience with the program cohort averaging five years experience. Furthermore, the AACSB accreditation body is widely recognized in North America and few institutions pursue another international accreditation. Only three U.S. business schools received the EQUIS accreditation: Krannert School of Management at Purdue University, Babson College (Olin Graduate School) and Bentley University.
Additionally, Pursuing multiple accreditations involve significant costs for business schools.
| | |
| --- | --- |
| United Kingdom | 20 |
| France | 12 |
| China | 6 |
| New Zealand, Spain | 3 |
| Australia, Canada, Denmark, Finland, Germany, Mexico, Netherlands, Portugal, South Africa | 2 |
| Argentina, Austria, Brasil, Belgium, Chile, Colombia, Egypt, Ireland, Italy, Norway, Peru, Poland, Sweden, Switzerland, Venezuela | 1 |