Mom Gets Surprised After Attending Every Class with her Quadriplegic Son
Tuesday, June 6, 2017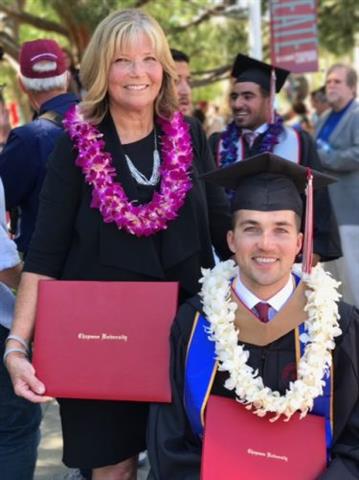 Judy and Marty O'Connor
A mother had a memorable surprise at the graduation of her quadriplegic son.
Judy O'Connor helped her son get his MBA degree at Chapman University, in Orange County, California. Little did she realize by attending every class with her son, she would received an MBA degree in the process.
Her son, Marty O'Connor 29 years graduated from the University of Colorado-Boulder with an undergraduate degree in 2010. He spent the next years working as a sales rep in the packaging industry and traveling around the world. Five years ago, his life was changed when he fell down a flight of fire-escape stairs and became paralyzed from the shoulders down. A competitive snowboarder and volleyball player, he didn't know where to go and was focused on intense physical therapy, five days a week.
"At first, I was in such denial that this could happen. I was an athlete, I was in sports my entire life", said Marty. "I was in such a funk mentally because every day was about the same thing."
Rather than give up, he realized that he needed a mental challenge and wanted to add some professional values to himself. He enrolled in an MBA program at Chapman University with the help of a $10,000 annual scholarship through the Swim With Mike, an organization in honor of USC All-American swimmer Mike Nyeholt, who was paralyzed after a motorcycle crash in 1981.
Judy was living and teaching in Florida at the time of the accident. Once Marty enrolled in Chapman University, she decided to retire early from her teaching job and move to Southern California to help him take notes and write in test answers during classes. The two were inseparable for the past two years.
As she pushed Marty's wheelchair across the stage, the graduation announcer called her a "special individual" and said that faculty, administration and board of trustees decided to award her an honourary degree. Judy blew a kiss as the crowd cheered and applauded.
"Mrs. Judith O'Connor has attended all the classes with her son Marty," said the announcer. "She has taken notes and worked with Marty throughout his academic career."
"I'm a geek," she told the Chapman University blog. "I love being in school. I'm not going to lie. I've enjoyed every minute of it." Marty suggested the idea to honor his mother. The university kept it a secret until graduation. "She's been instrumental in the past two years," said Marty to. "There's no way I would have achieved my level of success without her."