Boston University School of Management Receives $50 million Gift
Tuesday, April 14, 2015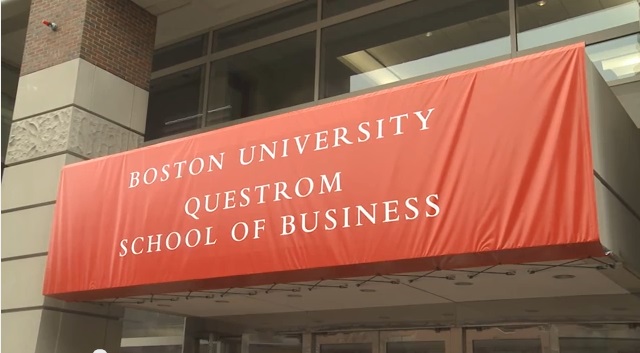 BU School of Management New Name Revealed
Boston University received a $50 million gift from an alumnus, Allen Questrom and his wife, Kelli. In recognition to this record gift, the school of management was renamed Questrom School of Business.
The gift will be used to endow 10 faculty chairs and enable planning to build a 60,000-square-foot facility.
"This is a transformative moment in the history of the School and the University," said BU President Dr.Robert A. Brown. "The gift will both propel the School on the path of increased impact and quality and will forever associate it with the name of one of the most successful and highly regarded corporate executives in America, and one of Boston University's most distinguished graduates."
"I would hope that students, as they go through school and into a career, will periodically reflect on their life, to pay mental homage to the people who helped them along the way and to recognize as they 'make good' that they have a responsibility to 'do good,' to pay it forward by helping the next generation," said Questrom. "When one looks at where investment can do the most good," Questrom says, "you have to think of innovation in our schools because second only to the positive influence of family values, the route to earned success is to be well educated."
Allen Questrom received his bachelor's degree in finance and marketing from Boston University in 1964 and made his career in the retail industry. It all started at BU when a professor in retail management helped to raise Questrom's interest and career in that industry. He served as Chief Executive Officer for several notable department stores and specialty retailers including Federated Department Stores, JCPenney Company and Barneys New York.
The $50 million gift, the largest ever received by Boston University, comes two year and a half after the launch of a $1 billion fundraising campaign and brings the campaign total to $823 million.
In a video, the name change received mixed opinions among students. Although some of them thinks that it is a good decision, other thinks that the naming is weird and is an unecessary change.
School Profile
Boston University - Questrom School of Business
See also