Cleveland Clinic and Case Western Reserve University to Offer Healthcare EMBA
Sunday, May 3, 2015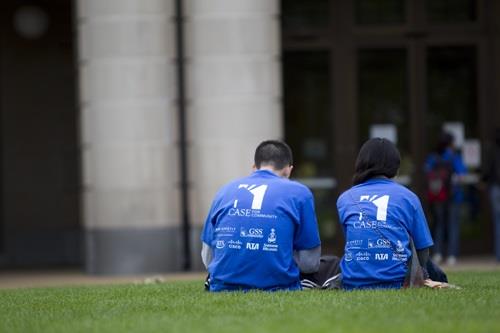 CWRU students. Image courtesy of CWRU
The Weatherhead School of Management at Case Western Reserve University in Cleveland and the Cleveland Clinic join forces to offer a healthcare-focused executive MBA degree program.
Cleveland Clinic is regarded as one of the top four hospitals in the United States and number one for cardiac care by U.S. News & World Report.
The new program is geared toward doctors and senior-level healthcare administrators and was designed in response to a growing need in the healthcare sector nationally and the increasing number of Cleveland Clinic physicians and healthcare professionals who have graduated from CWRU's traditional EMBA program.
The specialized curriculum consists of 16 three-day modules spanning 20 months and covers a range of topics including business statistics, health finance, supply chain management, corporate governance, decision-making with analytics. Courses will be taught by CWRU faculty and clinic instructors at Weatherhead School and the Cleveland Clinic campus.
The program includes a 10-day trip overseas with the faculty during the Summer term to reinforce business fundamentals through a global lens and an applied project to identify business issues and implement solutions in their own organizations. They will receive guidance and mentorship from an executive coach to develop their leadership skills. They will be equipped with knowledge and skills to address challenges in an evolving and complex industry.
Eligible applicants must have at least 10 years of work experience. Application deadline for Fall 2015 is June 15. Tuition fees are $98,000
School Profile
Case Western Reserve University - Weatherhead School of Management
See also