ESCEM Relaunches its Online MBA
Wednesday, May 13, 2015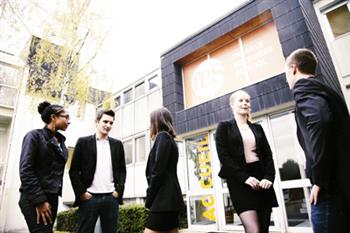 ESCEM Orléans Campus - CC BY-SA 4.0
France-based ESCEM School of business and Management will offer new specializations starting in Fall 2015.
Eight years after its launch, the program features new optional specializations in Finance, Marketing and Entrepreneurship and can be completed entirely online in 14 months instead of two years compared to the previous format. During the two lasts months, participants will take part in a capstone project in which they will apply the knowledge and skills they have learned during classes.
The previous format of the distance online program required to spend three weeks on ESCEM's campuses in Tours and Poitiers and offered an emphasis on Sustainable Development.
Eligible applicants must hold a bachelor's degree, 2-3 years of work experience and demonstrate English proficiency.
ESCEM received the AACSB accreditation in 2006. The school was part of the merger with three other business schools (ESC Clermont, ESC Amiens and Brest Business School) in 2012 to become France business school. The merger was aborted two years later due to high tuition fees, large difference between schools environments and failure in recruiting new students.
School Profile
ESCEM School of Business and Management
See also