IE Business School Revamps its International MBA
Tuesday, May 5, 2015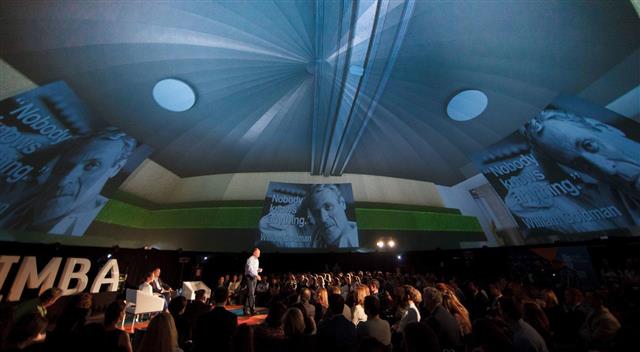 The IE's "Unconvention" event © IE Business School
Spain's IE Business School hosted the "Unconventional" event held at the MadridDome which marked the introduction of a newly redesigned International MBA program.
After a northern lights show, professor Erik Schlie, Associate Dean of IMBA, presented the features of the new curriculum to the audience. The IE's International MBA is a one-year full-time taught in Madrid and is available in Spanish and English.
Features of the new IE's International MBA program
Students will be able to customize 40% of the program to suit their personal interests and career aspirations. They can choose between two tracks: a "transformer" track for those who want to develop their managerial careers in the corporate world and a "creator" track with a five-week module focused on entrepreneurship. Furthermore, they can personalize their learning experience by choosing from over 150 elective courses and can opt to develop business projects or work on social projects in Africa or South America.
They can participate in a three-month international exchange program with one of IE's partner schools around the world including NYU Stern, Babson College, Chicago Booth, London Business School, or CKGSB Beijing. They will expand their networks with students from other top business schools during the Global Network Week or have the chance to create their own startups and compete in IE Venture Days in Madrid, Shanghai, Sao Paolo, Mexico, Providence, Berlin, Tokyo, Lisbon and other cities around the world.
The program also features trips with the Venture Lab to examine entrepreneurial ecosystems in Silicon Valley, NYC and Israel and a Professional Fitness program that consists of the "Career Fitness" module which helps students to design a professional growth strategy and the "Behavioral Fitness" training where students develop their soft skills like communication, change management or leadership.
"The program has a marked focus on entrepreneurship, social commitment, and innovation, as well as bringing added impetus to students' soft skills and capacity to map a career path." said Santiago Íñiguez de Onzoño, Dean of IE Business School.
Marc Randolph, co-founder of Netflix, and Michael López-Alegría, Spanish-American astronaut were invited to the event to talk about their experiences and for a panel discussion.
School Profile
IE Business School - Instituto de Empresa
See also