An MBA Creates a Tinder-like Dating App for Pokemon Go Players
Thursday, August 11, 2016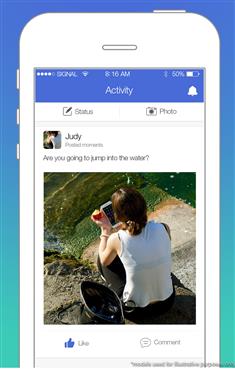 Pok App
As Pokemon Go gained popularity around the world, an MBA student from the University of Tampa, has not only catched Pokemons but also a girlfriend while playing the game and an idea of a dating app.
While hunting for a Dratini or an evolved Eevee, a rare Pokemon, around the University of Tampa's campus with friends and other players, Jeffrey Zhang followed the crowd and ran to a Pokestop without looking around him. A girl bumped into him and hurt his foot. At first, he was angry and the girl apologized. The two talked to each other and ended up dating shortly after.
As a shy person, he realized that he could make a dating app for Pokemon Go players, he believes that this kind of app will help people dating easier as they share something in common. With the help of a friend, he decided to launch "Pok".
Just like Tinder, the user of the Pok app has a certain number of people per round to choose to swipe left or right. If two people are a match, they can chat and view their hunting activity.
Since its launch, Pok has been downloaded thousands of times on Play Store and has received mixed reviews with an overall rating of 2.9.
School Profile
The University of Tampa - Sykes College of Business
See also