Newly Admitted Wharton MBA Student and Proud Mother Set To Launch New Venture
Thursday, April 9, 2015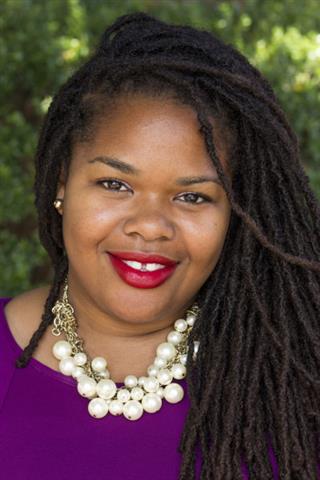 Divinity Matovu
This is the story of Divinity Matovu, a future Wharton MBA student and mother of two kids who wants to change the image of young mothers pursuing graduate studies in business.
Divinity comes from a small town in Wisconsin and is a first-generation college graduate from the University of Southern California where she studied Political Science. She will begin her MBA at Wharton School Fall 2015 with a focus on finance and entrepreneurship. She has lived and worked in Uganda, Kenya and Tanzania and prides herself on being a global citizen and an advocate for women. She's passionate about start-ups, technology, women's empowerment and African affairs.
Describing herself as a "fiery entrepreneur and independent thinker", she has launched four start-ups: a fashion company in Los Angeles, a youth development non-profit in Uganda, a consulting firm with clients in Africa and the US, and now her latest venture, MBA Mama.
MBA Today (MT) - Why did you decide to launch MBA Mama? What is the goal of the website?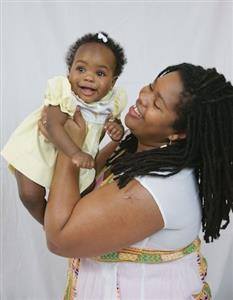 Divinity with her baby Nyah

Divinity Matovu (D.M.) - While researching MBA programs, I often had to dig deep within school websites to find information applicable to me as a prospective MBA student and a mother. I came across very few images of women MBAs who were also mothers, which was frustrating for me, and made me doubt whether my goals were attainable at times.

I had my "aha moment" for MBA Mama after receiving a text message from Derek, one of my colleagues in Management Leadership for Tomorrow (MLT)'s MBA Prep Program which I completed in 2014. Derek texted me saying he admired my perseverance, and my ability to balance MLT, Forte Foundation's MBA Launch Program, GMAT prep, taking supplemental courses, running my own business and being a single mother. I was touched by Derek's text. As an entrepreneur, I immediately started to think about how I could impact more people like I impacted Derek.

One week after Derek's text I decided to start MBA Mama, a dynamic blog featuring exclusive, inspirational content that provides Millennial Mamas with tools and resources to pursue a graduate business degree. The goal for MBAMama.com is to evolve as the premier website for young women balancing family planning and career advancement.

While pitching this idea over the past few months, I've received overwhelming support from Millennial women who do not have children yet. My hope is that all women will see that an MBA, career advancement and children are not mutually exclusive. The blog launches on April 15, 2015 which is my daughter, Nyah's birthday.

MT - How do you think mothers can manage their time studying for a full-time MBA?

D.M. - For any parent to manage a full-time MBA program, we must be time-management gurus and have a supportive network of people who can assist with childcare. Personally, I have a ton of life hacks which save me time and money that I'll be sharing on MBA Mama. For example, I usually bring my laptop or iphone into the bathroom while my daughter, who will be 3 years old next week - is in the tub. I'm close enough to watch her while I organize my to-do lists and catch up on emails. After 15-20 minutes of uninterrupted work time for me and bath time for her, I put my devices away, scrub her down, get her ready for bed and we read a story every night. I encourage your readers to tune in and check out those blog posts as I'll be sharing many more tips and tricks.

MT - Why are women, especially women who have children, under-represented in the senior management and MBA programs?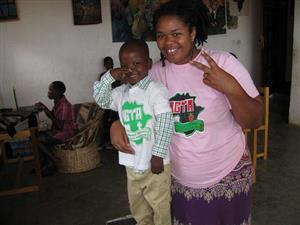 Divinity with her son Shafiq in Uganda

D.M. - The under-representation of women, especially women of color and women with children, is an issue of great concern to me. The groundbreaking study, "Women and the MBA: Gateway to Opportunity" offers amazing data-based insights into this issue, and organizations like Forte Foundation are working to address this in new, innovative ways. Personally, I want to see women's enrollment in business school on par with men's enrollment within the next 5-10 years. I am interested in challenging the ridiculous idea that women have to choose between family and education/career. In addition to breaking down barriers through my personal choices and sharing my journey with women through MBAMama.com, I would like to see high-level institutional changes. Pay equity is imperative. The same companies offering to pay female employees to freeze their eggs should invest in better maternity leave programs and support on-site childcare resources for all employees with children. MBA admissions officers need to realize they are missing out on huge opportunities when they fail to target, recruit, and support talented women with children for their programs. I am optimistic that my blog will make an impact to increase the representation of women in MBA programs in the years ahead.







School Profile
Wharton School - University of Pennsylvania
See also