Pittburg State University to Offer dual MBA/Master in Management
Wednesday, April 29, 2015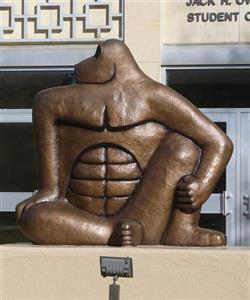 A gorilla, mascot of Pittsburg State University
Jonathan Dresner via Flickr
The Kelce College of Business at Pittburg State University signed an agreement to offer a dual degree with France La Rochelle Business School.
Students of the Pitt State MBA program will have the option to follow a master in management (MiM) in La Rochelle located on the west coast of France.
"This is a fantastic opportunity for our students to gain international business experience and earn a degree from two of the top business programs in the world," said Linden Dalecki, associate professor at Pitt State and coordinator of the dual degree program. "We are very excited to work with La Rochelle on this program, and we thank them for being partners in this unique venture."
Eligible students for the MiM must complete at least 25 credits of the curriculum. Up to three students will be selected to travel to France and spend a Fall Semester in La Rochelle. They will also be required to do an internship in Europe.
Upon completion, they will receive an MBA from "Pitt State" and a MiM from La Rochelle.
Similarly, other U.S. universities offer the possibility to study in France or earn an additional degree from a French business school. Global MBA students of Clarkson University spend one semester in France at Kedge Business School. Clemson University offers a dual MBA/Master of International Business degree in partnership with IESEG.
School Profiles
Pittsburg State University - Kelce College of Business
Excelia Group - La Rochelle Business School
See also