University of Notre Dame (Mendoza) Expands its Presence in Chicago
Wednesday, June 17, 2015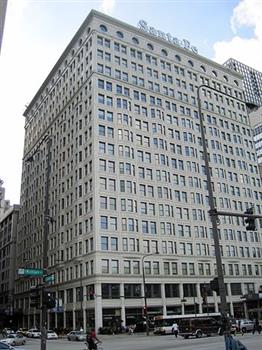 Railway Exchange Building / Wikicommons
The Mendoza College of Business at the University of Notre Dame opens a newly renovated campus in Chicago.
The 8,200-square-foot space located on the third floor of the Railway Exchange Building on the Michigan Avenue, will house a MS in finance (MSF) and a MS in Business Analytics (MSBA) offered by the Stayer Center for Executive Education. Both one-year programs are set to launch in January 2016.
"The new space will be a great asset in helping us meet the increasing demand from working professionals in Chicago and elsewhere for an academically excellent business program based on the ideals of Notre Dame — ethical leadership, a commitment to service and a strong sense of community," said Jeffrey Bergstrand, associate dean of Graduate Programs for the Mendoza College of Business.
In 2009, the University of Notre Dame opened a space in a building at 224 South Michigan Avenue where an Executive MBA is offered. The College of Business is accredited by AACSB international and offers full-time MBA programs in South Bend, IN ranked by Bloomberg BusinessWeek, Forbes, the Economist and the Financial Times and an Executive MBA in two formats in Chicago and South Bend, IN ranked by BusinessWeek.
School Profile
University of Notre Dame - Mendoza College of Business
See also