University of Wisconsin-Madison Reverses Plan to Suspend MBA
Tuesday, October 31, 2017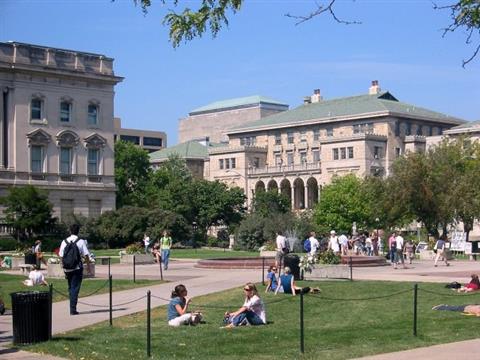 Vonbloompasha / WikiCommons
The University of Wisconsin-Madison's School of Business backed off of a plan to suspend admissions to the full-time MBA.
Just one week before, officials announced that they would consider shutting down the two-year MBA during a review of the school's business strategy. The move would have made WM the latest business school to phase out its flagship program after Iowa (Tippie), Virginia Tech (Pamplin), Wake Forest, Thunderbird, and Simmons College. However, this proposal raised concerns among current students and alumni about the value of the WM business degree in the market.
19 octobre 2017
That sucks since Wisconsin was my top choice. It sounds like it's getting to the point where the MBA is becoming obsolete.

— Ryan Hanson (@ryahanson) 20 octobre 2017
As a proud alumnus of the @WisconsinMBA program, I am shocked, disturbed, & dismayed by this news. https://t.co/oJOaZnc3C6

— VGCollectaholic (@VGCollectaholic) 20 octobre 2017
@WisconsinMBA @UWBusiness You owe alumni and students a much clearer rationale and plan. Forward just not together? https://t.co/HHJBErzZ9W

— Dennis Hull (@Dennis_Hull) 20 octobre 2017
More than 750 students and alumni signed an online petition that called to "maintain and improve the full-time program rather than dissolve it for lower-intensity MS degrees". WSB dean Anne Massey admitted that they decided too quickly in their plan and apologized to the students during a meeting on October 23.


"We have heard from our community of students, alumni, and friends; therefore, we are going to stop further discussion of the one-year suspension of the full-time MBA". said Massey. "We moved too quickly without the broad consultation and discussion that our stakeholders can and should expect".
Although the Wisconsin MBA offers a good ROI with a median starting base salary of $100,000 per year and an annual tuition of $17,452 for Wisconsin residents (Non-resident: $35,316), the number of applicants has declined in each of the last four years. 104 students enrolled this Fall.
While the school celebrated the ten-year anniversary of the $85 million donation of alumni to not name the school for an individual, it's time for WM to move forward from this communication incident.
School Profile
University of Wisconsin-Madison - Wisconsin School of Business
See also