The Triple Accredited Business Schools (AACSB, AMBA, EQUIS)
As of August 2020, 102 business schools in the world hold the "triple crown" accreditation from the most sought-after international accreditations: AACSB, AMBA, EQUIS. 65% of these institutions are based in Europe.
The latest schools to receive the triple accreditation are: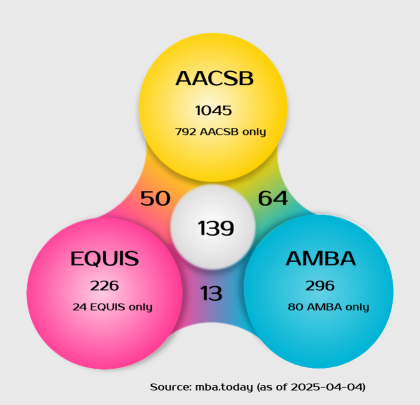 60.5 percent of AACSB-accredited Business Schools are based in U.S.. UK-based Association of MBAs considers the MBA degree as a postgraduate degree with a program cohort averaging five years experience and requires that students must have at least three years of work experience. Most institutions in U.S. accept students with a bachelor degree with no or little work experience and don't meet the AMBA requirements.
Furthermore, the AACSB accreditation body is widely recognized in North America and few institutions pursue another international accreditation. Only three U.S. business schools received the EQUIS accreditation: Babson College (Olin Graduate School), Bentley University and Hult International Business School. Two received the AMBA accreditation: Hult and Washington University in St. Louis (Olin). Hult is the only U.S. institution that holds multiple and the triple accreditation.
Additionally, pursuing multiple accreditations involve significant costs and seeking the triple accreditation requires an initial investment of at least $100,000.
Initial Accreditation Fees
AACSB International
AMBA
EQUIS
Initial Accreditation Fees

Eligibility Application Fee: $2,000
Process Acceptance Fee: $6,500
Initial Accreditation Fee: $5,950
Accreditation Visit Application Fee: $15,000
Deferral Visit Fee: $5,500

Registration Fee: £2,000
Pre-assessment Fee: £5,000
Assessment Visit Fee: £15,000
Annual Fee: £4,500

Application Fee: €9,750
Review Fee: €16,250
Annual Accreditation Fee: €3,250

Sum
$34,950
£22,000 ($28,600)
€29,250 ($33,930)
Annual Fee
$5,950
£4,500
€3,250
The whole process for obtaining the AMBA accreditation starts at $28,600 (£22,000). Price goes up with assessment of programs delivered on other campuses and assessments of additional programs such as MBM (Master of Business Management) and DBA programs.
The candidate institution will have to pay the expenses for the assessors (travel, over-night accommodation and direct other expenses) which can climb up to $10,000 for each visit. Once accredition, the new member will pay annual fees to each accreditation organization.
| | |
| --- | --- |
| United Kingdom | 22 |
| France | 18 |
| China | 9 |
| Germany, New Zealand | 4 |
| Australia, Netherlands, Spain | 3 |
| Brazil, Canada, Denmark, Finland, India, Mexico, Portugal, South Africa, Switzerland | 2 |
| Argentina, Austria, Belgium, Chile, Colombia, Costa Rica, Egypt, Ireland, Italy, Norway, Peru, Poland, Singapore, Slovenia, Sweden, Thailand, United States, Venezuela | 1 |